Tech makes it easy to re-present content in a format that is more accessible for each individual...


"Researchers Testing the Impact of Text Formatting on Learning"
"...A four-year research effort at the
University of California, Irvine
will test out the impact of changing the formatting of text to help middle school students improve their reading and writing abilities.
The U.S.
Department of Education's Institute of Education Sciences
has awarded $3.5 million to a
School of Education
research team that will be working with local
Garden Grove Unified School District
on a project that involves Chromebook computers, iPads and "visual syntactic text formatting" (VSTF). The project, "Digital Scaffolding for English Language Arts," is expected to begin in July and run until September 2019.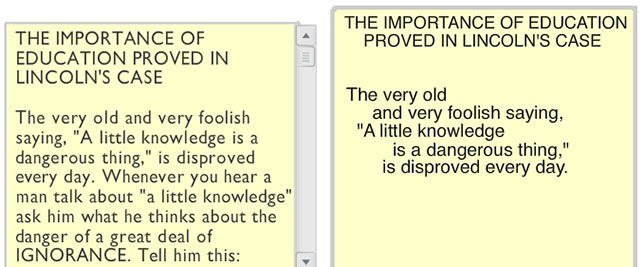 A sample passage reformatted using Live Ink technology
VSTF, an approach developed by Walker Reading Technologies and licensed as "
Live Ink
," reformats text digitally with line breaks and indentations to assist visual and syntactic processing for students who are reading. Walker Reading was formed from a personal research project by Randall Walker, an assistant professor of medicine who teaches at the
Mayo Graduate School of Medicine
.
Participating Garden Grove teachers will receive professional development on how best to teach close reading of texts to intermediate students. Then seventh and eighth grade students will read for 50 minutes each week in specially-selected texts that support the
Common Core State Standards
for English language arts. Classes will be randomly assigned to read the texts in regular block formatting or VSTF. Then the researchers will examine state and district test scores to evaluate the impact of the various approaches to reading on learning outcomes...."
Read the full article at its source:
http://thejournal.com/articles/2015/06/02/researchers-testing-the-impact-of-text-formatting-on-learning.aspx